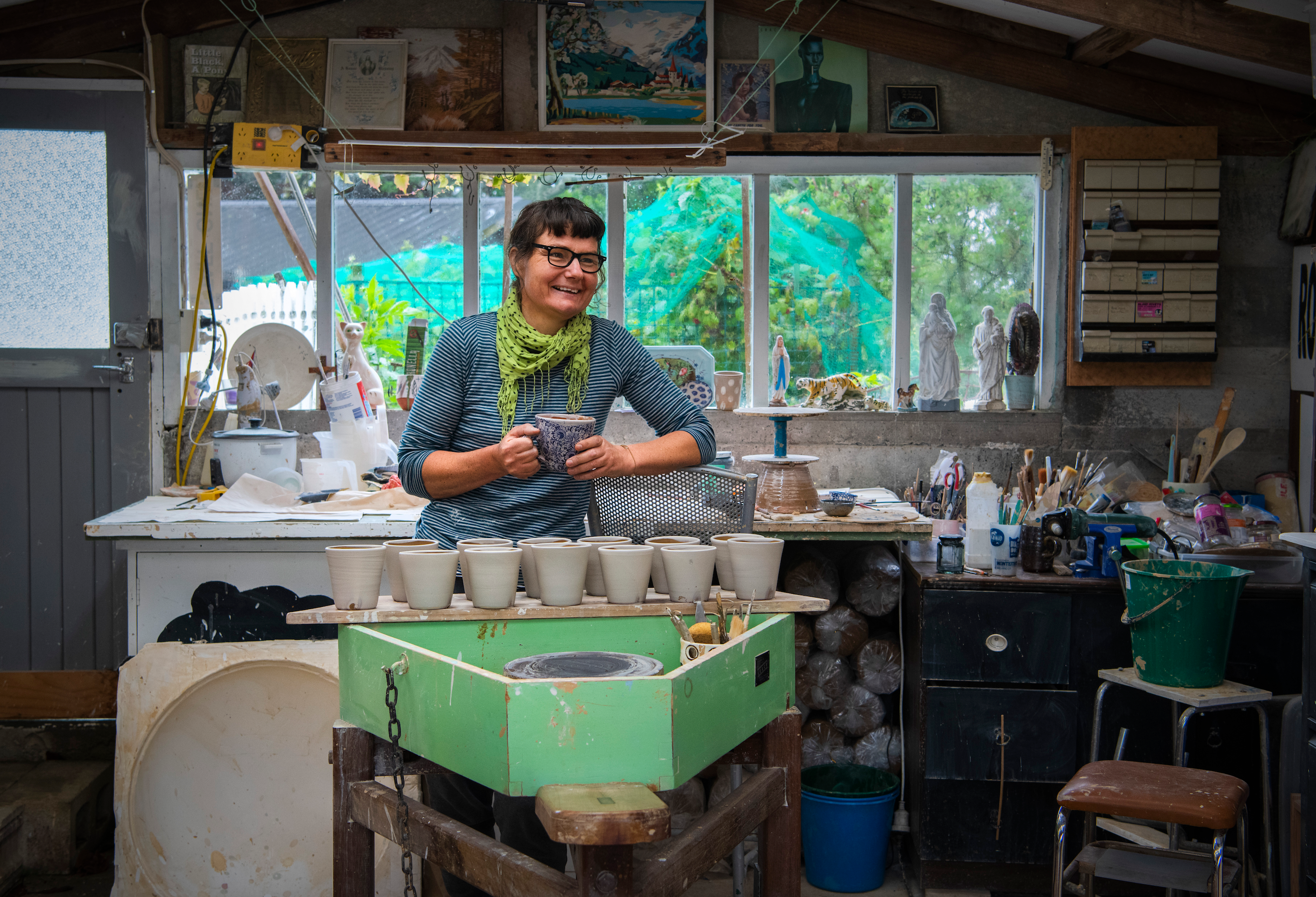 Marita Green is a Taranaki ceramic artist who creates distinctively playful ceramic works. Marita creates her work intuitively, with a strong emphasis on surface design, and a joyful use of colour!
"There is a real place for hand-made things in a sea of mass production. I throw my pots on an electric wheel, and fire in an electric kiln. Most of my domestic ware is earthenware, and slip decorated (slip is a coloured liquid clay applied before firing)."
You create ceramic works that have a strong focus on the surface design and bold and colourful patterns, what sparks your imagination when you are brainstorming ideas?

I'm self-taught, so my creative process is quite unique – I don't follow any structured process so much as follow my nose. I've found that one piece leads naturally to the next, I'm always wondering "what if?". So there is a natural follow-on from one piece to the next, almost like a Jacobs Ladder that just keeps unfolding. I have tried to keep a visual journal in the past, because that's what They say you should do. But I can't make the leap between the 2-D pages and the 3-D pot. So I always do my 'sketches' in clay, right from the outset. Or if I do need to do a quick draw, I do so on my actual workbench which is always covered in newsprint.

My subject matter is autobiographical. I'm just processing my life with metaphor and humour. Life is never stagnant, so there's a constant stream of material in my head.

I love your versatility with what you create, from beautiful porcelain jewellery, to functional ware, planters and always in your fabulous signature style! Do you make according to creating collections of works (functional ware for example) or do you prefer to create an eclectic range of wares at any given time?

I usually do a 'run' of similar works – tumblers, surface type, jewellery. Especially when I switch clay bodies from terracotta to pristine porcelain (this requires a clean-up so I don't contaminate the white!) I make the effort worth my while. But again, I'm very intuitive. Which might not always make the best financial sense, but it does mean I never have creative block. Boredom is my nemesis! It's the ultimate freedom being unfettered by expectations and rules, and just going where my curiosity leads.

I do strive for artistic integrity and personal authenticity. But that is the only requirement I put on myself. That way I maintain fun, play and joy.

Do you have a favourite ceramic item you love making the most? What is your favourite aspect of being a potter?

I definitely love throwing pots on the wheel most, because it is always a challenge. Making a good pot is very zen, you have to be fully present for the entire process or it goes to sh*t. It looks very serene to the observer, but there is a lot of communication happening between potter and clay every second. Sometimes I feel like I'm in a time-warp because I end up being so focussed I lose sense of time. The complete absence of ego in that moment is divine. And the perfect pot is simply unachievable – there is always something that can be improved. So I'm constantly challenged.
I'm also loving doing my line-work surfaces at the moment. The patterns, symmetry, iterations and rhythm are very me. I have a mathematical brain (I was a hydrographic surveyor before having children) and I find the whole, logical process quite soothing, even though it takes aaaaaaaages.
What does a regular day look like?

My work-day is sandwiched between school drop-offs and pick-ups. I work from my studio on our home property, and I punctuate my days with domestic chores like laundry and groceries. Pottery is a long process, and the clay will tell you what needs to happen next – throwing is only the initial step. Many processes have a very narrow window of time in which they can be achieved, based on the level of clay dryness. So I'm really just doing what the clay is telling me I have to; trim it, attach a handle, slip it, carve it, fire it. I try to keep my work to weekdays, but that never happens, I always end up working weekends.

Do you have favourite music you create to, or do you prefer peace and quiet in your studio?

Music is my constant companion. Just like I couldn't make a pot without my wheel, I don't think I could make a pot without music. Its one of the luxuries of my job – working alone means I get to crank on any tunes I want. I typically thrash an artist or album or playlist over and over and over before I move on. I'm not precious about what I listen to – 80's pop, Dolly, The Arctic Monkeys, Van Morrison, anything except Ed Sheeran. At the moment I'm thrashing Sia's back catalogue. She's a genius.

Lastly, what is your most treasured place in Taranaki and why?

My home because I'm fiercely introverted and I love my family, but I don't think that's where you are going with this question. So I'll have to say Ratapihpihi Reserve. It's a small pocket of Nikau bush, DOC administered, just around the corner from our house, on Cowling Rd. Its infinitely serene – cool in summer, sheltered in winter, the big trees creak in the wind and there is always the beautiful smell of damp leaves and earth. I love that its so close to the city – a wee oasis of bush that's easily accessible.
To view Marita's collection of ceramic wares, click here