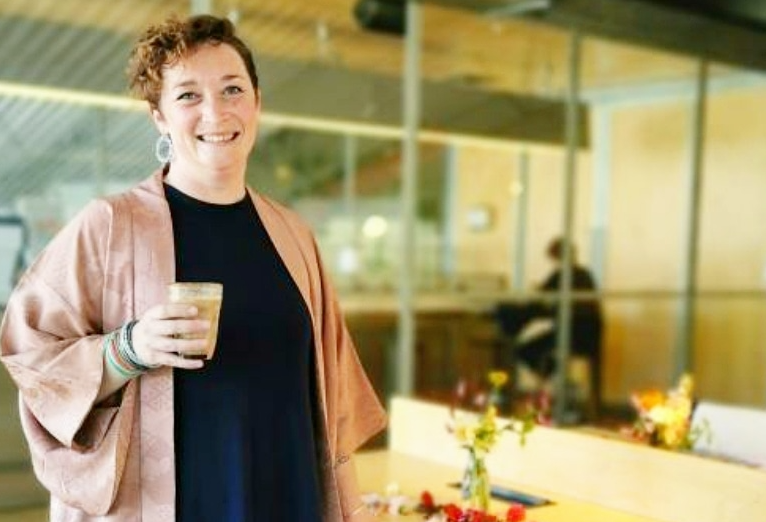 Fleur Woods is a Nelson based textile artist, who is inspired by the intricacies and beauty of nature and nostalgia. Fleur has a wide following both nationally and internationally, and also runs embroidery work shops throughout New Zealand, sharing her skills and knowledge and the joy and satisfaction contemporary needle work has to offer.
Your works reflect a love and fascination for nature, have you always been drawn to the lush beauty of flowers and florals?
Absolutely, I moved to NZ with my family in 1988 from Asia and as a young child I can remember being in awe of the mountains, the bush and the farm land. Growing up surrounded by nature and with a Mum who's a keen gardener I have been lucky to be surrounded but it and inspired by it from a young age.

You work with intricate needle work, creating amazing textural textile works. When did you first pick up a needle and gain an interest in embroidery?

It was around 2017 when I was creating mixed media pieces incorporating textiles into my pieces. Always an admirer and rescuer of vintage embroideries, I started collaging pieces into my works and the itch to stitch stems from there. I explored the process over a year in the studio learning a lot long the way. It's was a lot of trial and error as I'd never stitched before and have zero knowledge, but it felt so natural and the slowness of the process really allowed me to take my time and appreciate the details.
You live in the serene countryside of Upper Moutere, and have a gorgeous cottage style garden- do you find that you meander through your garden and display flowers to spark inspiration for your creations?
Absolutely, I've just planted some flower seeds for this Summer, so looking forward to seeing them bloom in a few months time. There are always fresh and dried flowers around my home and generally some foraged seeds in my pocket.

What does a regular day look like for you?

Kids off to school, dog walk then down to work. I work from home so I love to sit at my kitchen table and check emails, tick a couple of admin jobs off the list then spend as much time as possible stitching.
What is a special and inspiring destination for you, whether it be local or some place in New Zealand and why?

Central Otago, where I spent time growing up. It makes me very happy but I'm equally inspired somewhere coastal like the Otago Peninsula or the Able Tasman. Botanical Gardens in any city are always amazing. Taranaki's established gardens are a total delight.
Check out Fleur's limited edition prints here