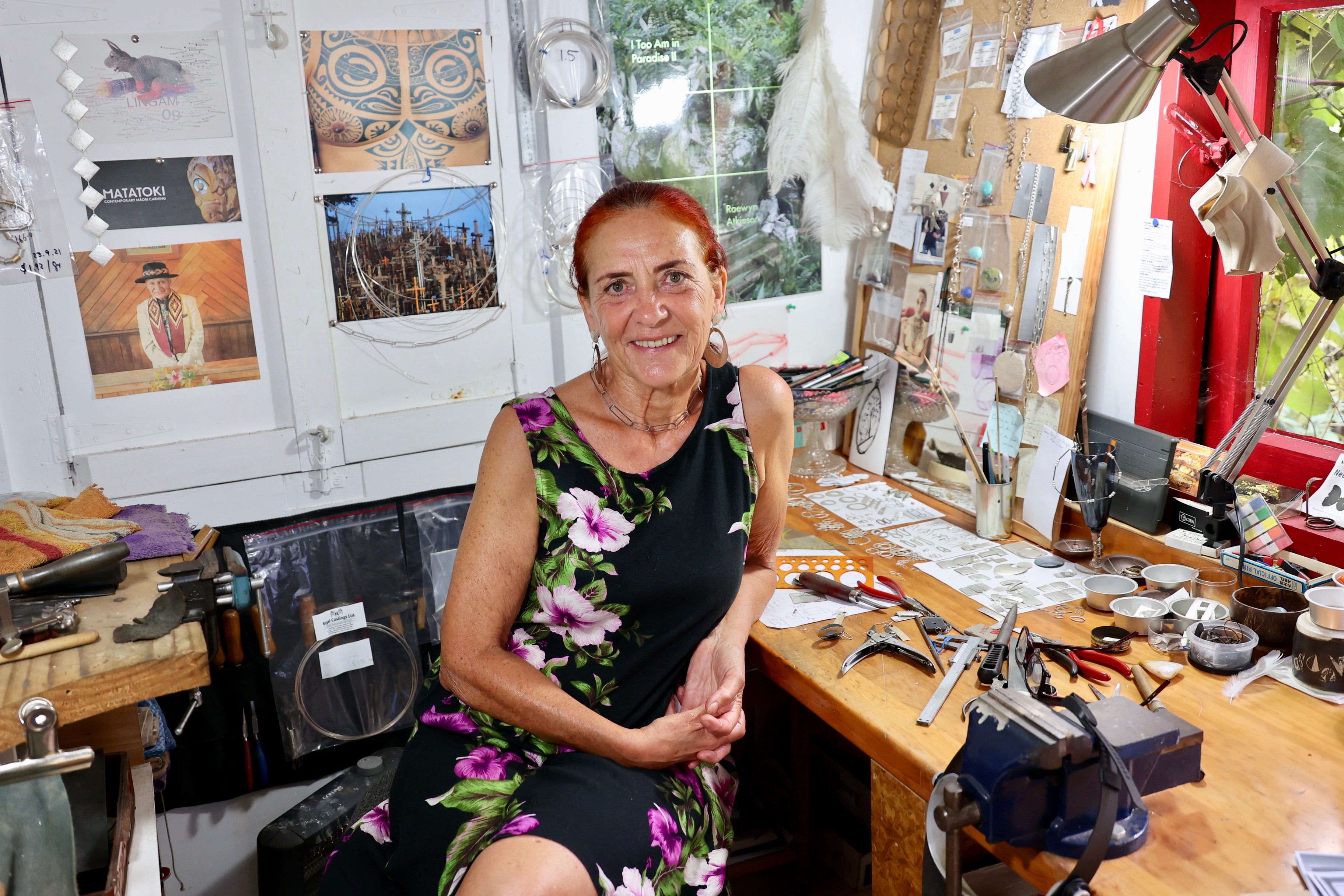 Ilse Marie Erl enjoys exploring the tactile qualities of pure silver and playing with rhythm and texture.

"I love finding inspiration for my work in my immediate environment. Living in West Auckland, I am fortunate to be able to move between a busy urban life and exquisite natural habitat. So I reference urban and natural formal qualities in my designs."
When did you first enter into jewellery design and what initially prompted you to create jewellery?

In 1995 I decided to study at Unitec School of Art and Design in Auckland. I actually wanted to get into costume design but Unitec scraped this course during my first year. This first year was a generic year where we learnt about art and design by exploring different media hands on. It was the start of my love affair with a four year degree course. I enjoyed every discipline, be it ceramics, glass casting, painting, drawing, sculpture, jewellery making, or the academic fields. Being a single mum I felt I needed to choose a medium through which I could generate some income after my training. This and having seen work by Jane Dodd made me to choose the contemporary jewellery course under the tutelage of Pauline Bern. I never looked back! I was very lucky to have been trained at Unitec during those years and by Pauline especially. Those times were amongst the happiest in my life and I cried when I had to move out of my workspace at the end of the four years.

Your collections of jewellery have a strong emphasis on shape, form and surface. You also work in the different variations of precious metal. Where do you seek inspiration for your jewellery design?
I find inspiration everywhere. Being stuck in traffic looking at the car lights in front of me, picking up an aluminium bowl with a simple ring handle, graffiti, plants breaking through asphalt in a street, plant or animal remnants being washed up at a beach, fashion, the human skin, a concrete wall surface, a building site, an architectural structure or detail, a visit to a museum, good photos in a magazine, anything visually interesting. Anything can trigger an idea, a focus, a starting point for further exploration. Basically I am inspired by my urban and by my natural environment alike, by structures, rhythms and textures. And luckily enough I live in West Auckland, close to town and close to some gorgeous beaches.
If you could meet anyone in history, who would it be and why?

I would like to meet my maternal grandmother again. I would like to show her what I did with the influence she had on me. She taught me sewing, embroidery, mending, baking and a love for nature. She always encouraged me to stay true to myself and to have confidence in my creativity and fine hand skills. She was interested in my mind and in my opinions; we had many deep philosophical discussions. I still miss her even though she died 25 years ago at the fabulous age of 93. Being German she survived two world wars and had to bring up two daughters and a war damaged son on her own. Her husband and one of her sons lost their lives in the war. I still deeply admire her resilience and spiritual stance. Women like her literally build up a country again, on their own with broken hearts.

What does a regular day in the studio look like for you?

I go down into my tiny workshop in my garden. I try not to get side tracked by any work to be done in my garden. I won't be able to help myself and do some little, quick maintenance like pulling some weeds or killing some stink bugs. After having settled into my workshop my special ringneck dove couple will come in demanding bird seeds. (They basically domesticated themselves, one of them works as a carpet cleaner in the house, marching around looking for food on the floor). I work for a few hours till my wrists and finger joints hurt (no fun having RSI!). When my eyes or hands get tired I watch the grapes in front of the window grow, talk to the doves, hunt for a few more pests eating my vegetables or I listen to my bumble bees in their hive in front of my hut. Once I am in my workshop I ideally like to spend my whole day there. However, I am learning not to strain my body too much anymore. I need to be able to make jewellery for much longer and therefore have to pace myself. After a few hours I call it quits and do some deep stretches to relax my muscles. I also do eye yoga. Great stuff!
Do you prefer to listen to music in your studio or work in silence? What is your favourite music to create a dynamic focus?
I either listen to RNZ or to my Spotify playlists. I love Reggae Dub, funky jazz and contemporary Latin rhythms. Music is very important to me and I am big way into upbeat rhythms. However, sometimes I like working in silence so I can listen to my thoughts and to the birds in the garden.

Do you have a favourite tool you love to use when making jewellery?

I wouldn't want to do without my rolling mill and my burnisher.

Lastly, what is a place close to your heart to visit for inspiration either locally or within Aotearoa?

I love the coast around Auckland. The lockdowns enabled me to go for long walks exploring my neighbourhood. I can walk for 5 minutes and admire the views over the Hauraki Gulf and the city. 10 minutes from there I can have a breathtaking vista over the Manukau Harbour and the Tasman Sea. This uplifts my spirit and humbles me deeply. This awesomeness gives me impulses for my creativity.
To view Ilse-Marie's full collection of jewellery, click here