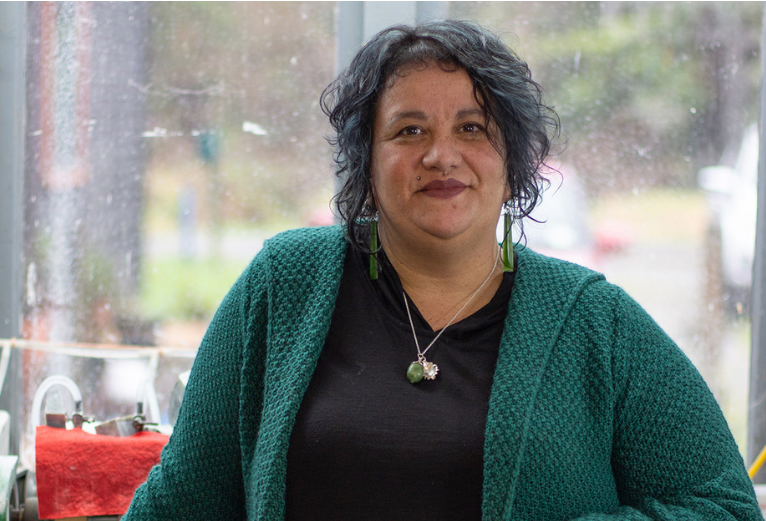 Ana Krakosky creates intricate hand carved Pounamu jewellery.
"I try to create pieces that speak to others about the beauty in life and the world around us. My work is a reflection of my life in a moment past, a snapshot of the present and/or a snippet of the future. It speaks not only for me, but for all those who have gone before me and those who will come after me. I love working with the strength of pounamu and the feel of it between my fingers as I shape and mold it into something someone will treasure and value."
Your practice as a jade carver has a very thoughtful and meaningful origin, you are a member of Te Atiawa and legend has it that your people descended from the sky. You focus upon bringing these elements surrounding your iwi into your practice. I love this foundation for your work. Has it lead you to learn more about your history and whakapapa?

I'm at the beginning of an exploration into my whakapapa or history. I was raised disconnected from my marae, hapu and iwi, which unfortunately is the experience of many of us. As such, I've always felt that some part of me is incomplete. I think designing pieces that have clear connections to my whakapapa was a subconscious way to begin making those connections. I hadn't really realized this until I recently spent quite a lot of time researching mauri ora (life force alive) in the development of an Artist Profile Book. I have moved on to begin a purposeful exploration of Te Ao Maori (the Maori world) and am working on a body of work to explore and express this process. I believe in celebrating both European and Maori cultures and influences. My primary aim is to explore and create a body of work that is a celebration of New Zealand's heritage and of our beginnings; where we come from and our place in the world. If I can explore and show others pride in where I come from and who I am, I can instill this sense into others and in turn, make the world a better place for us all. I aim to achieve success as a New Zealand Maori and European woman.

Your collections have a strong affinity for the natural elements such as symmetry, form, texture and intricacy. What are some of your favourite aspects of Aotearoa and our surroundings in this beautiful country?

I am blessed to live on the wild West Coast of the South Island and so I am surrounded by native flora and fauna. The coastline can be beautiful and crystal clear one day and raging with a storm the next. I love the extremes of weather, there's nothing like walking through the bush in the rain, with a soft bed of leaves underfoot, the smell of the earth and the sound of birds chattering.

I truly believe that mother nature is the ultimate designer and I take inspiration from her shapes and forms that surround us. I'm fascinated by geometry or pattern within nature. I love the way she organises her elements from the form of a simple leaf skeleton to the pattern of petals in a flower or a shell on the beach.

In my travels around New Zealand last year, I was astonished by the incredible scenery and the talent of local artists. Seeing where they live, viewing the works and contemplating their creative processes inspires me to create.
Where do you find you gain your inspiration and what is your general process of how you begin a piece?

I often get my inspiration from something small that sparks my interest, like the way raindrops fall on water or the curl of a leaf. When this happens, I generally begin by doing a few preliminary sketches and will often experiment with how a form could be made into a pair of earrings or a necklace. Sometimes I work with modeling clay, especially if a piece is technical. Working it in 3D helps me to troubleshoot and improve the design, consider how best to bring it to fruition and see how it turns and looks from all angles.

Other times it's a phrase like some words of wisdom, whakataukī (proverbs) or a sense of something that isn't tangible, like a thought or emotion. I try to imagine what it would look like if it was a tangible object or what shape could symbolise it and play with ideas around that.

On occasion, I look at a piece of stone or silver and see the shape of something forming. In this instance I like to play with it to see what I can extract and will often pause in this process to sketch the idea out a little more and to ensure that the portions are right before continuing on to refine the piece.
You have worked in a broad range of areas of design and hard materials; you have been a furniture maker, painter, silversmith and jade carver. Has this informed your practice in creating your stunning pieces of Pounamu jewellery?

Absolutely. One of the things I love doing is mastering new techniques and seeing how the things I've learnt can be used and applied in a different way, to something completely different. When I create a sculpture, I like to combine the use of materials such as the native wood, jade and lighting in Taonga Whenua (Treasured Land).

Most of my jewellery pieces are worked in both jade and silver; I really enjoy the process of bringing these two elements together. In the future, I would like to extend this combination out further with the use of locally sourced gold and precious gemstones in a way that will compliment my work.

For me, it is essential that the basis of my work always comes from a foundation of good design. With every piece I design and create, I have thought about the correct proportion, materials to use, the number of elements and balance. For me, it must be pleasing to the eye or I'm wasting my time and resources.
What does a regular day in the studio look like for you?

I only get to work at home in my studio three days each week as I have other commitments. I like to get out there early when the studio is cool. I love it when the morning sun is shining in the window on my bench or the sound of rain is falling with a vengeance on my corrugated tin studio roof. I find this is my most productive time. I put a doggie treat in each pocket of my linen apron and take a large cup of coffee out with me. My dogs, Max and Broccoli, hang out with me on their special faux cow skin rug and don't seem to mind the noise.

I always set up my work for the next session at the end of the day before so that I know what I'm doing before I even walk in the door. I try to maximise my time in the studio by being as productive as possible. My benches are layed out with lines of various pieces that I am currently working on; I've tried to do only one or two things at a time but this doesn't work for me. I tend to do a run of things using a certain tool or machine. Everything on my bench that requires a particular tool or technique gets worked before I move on to another tool or stage. I have a whiteboard with a list of the more pressing pieces that need to be completed and this sometimes guides my tool or machine use.

My studio opens out onto the back garden and courtyard. When we (the dogs and I) stop for lunch we usually sit outside in the garden. They demand that I always share my lunch with both of them. To encourage myself to get back into my studio I always take in a special tray with a pot of coffee and a couple of biscuits or a treat for afternoon tea. I try to do something different from my morning session. This way things don't become too repetitive for me. I usually finish up by tidying all of my rows of work and set up for the next day just before dinner time.

My favourite procrastination thing in my studio is to line all of my pieces up to make patterns and count them all off.

Do you prefer to listen to music in your studio or work in silence? What is your favourite music to create a dynamic focus?

I listen to loud music when I'm working on a noisy machine carving with earmuffs on. For this I like something with a good beat and good vocals that I can humm and move to, it helps me pass the time and I find it useful to work in a rhythm. I enjoy pop, blues rock, R&B and country, basically anything with good vocals and a good rhythm.

When I'm silversmithing at my bench or doing something quiet, I like something slightly lighter. I enjoy New Zealand music such as Six60 and Fat Freddys. If I'm doing a task that doesn't require any focus, thought or noise, I'll often put on an audiobook to listen to. I only have absolute silence when I'm reading or writing.

Lastly, what is a place close to your heart to visit for inspiration either locally or within Aotearoa?

My inspiration comes from my home, my garden and the world around me. I'm so lucky to live in the country with bush, birds, flowers and animals. A couple of years of lockdowns taught me how to really appreciate what I have and enjoy simply being at home in my own space. When I feel like some exercise, a quick drive leads me into the forest or to the beach.
To view Ana's jewellery, click here