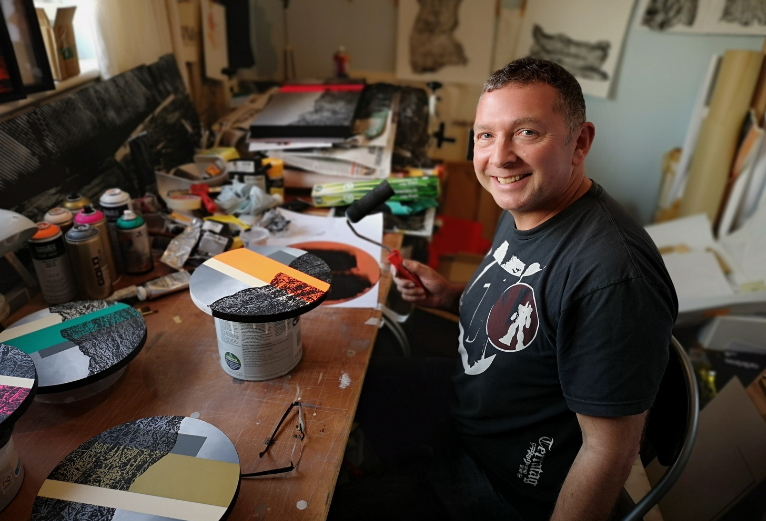 You have been based overseas for many years but recently returned. How are you finding living back in Aotearoa?

I was initially quite apprehensive about the move back here. I had spent a number of years building up my brand and networks, so to return to Aotearoa and start from scratch again was a bit daunting. I needn't have worried - the art scene here is cranking along nicely, and there are so many galleries and design stores enthusiastically representing local artists.
What are some destinations, locally or nationally that you have enjoyed rediscovering upon being home?

We are based in Waikanae on the Kapiti Coast. While we don't live at the beach, Kapiti Island is visible from pretty much everywhere in the region. If you'd have asked me a few years ago if I would have ended up in the area my grandparents retired to I would definitely have said "NO!", but I'm actually really enjoying it. I think after living in London for 14 years I was ready to live somewhere where things were a little bit more laid back.

The coast is a great inspiration for me, and my work is definitely more landscape/seascape focussed now. While I was in London my work generally featured the conflict of nature versus structure, but it certainly integrates more nature since my return to Aotearoa.

Hills are also inspirational, and I've featured hills and mountains in my work for a number of years. I love rolling hills - the type that look like folded body parts. When evening light falls on those hills it's just magic.
Your practice speaks of the contrasting elements between nature, and man-made structures. How did you find your initial transition from life in NZ to a huge metropolitan city like London?

Moving to London was an eye opener. I had been there before, but when you relocate it's different than being on holiday. Everything was exciting, around every corner was something you'd never seen before. I was amazed at the history - buildings that were several hundred years old, structures that were thousands of years old. The way ancient and modern sat next to each other was amazing. I had always been interested in architecture, and after a number of years in London I became obsessed with post-war brutalist architecture.

One medium that features in some of your work is found materials. How did your decision to use these come about?

Recently I've been working on a series of mixed media projects on found corrugated cardboard. These works represent my concern with the increasing amount of waste we produce, and our lack of consideration for the impact it has on our environment. The aim of these works is to upcycle unwanted materials into art, giving it a second life which is more permanent.
If you were to describe your perfect day overseas, what would it look like and where did you source your inspiration from?

We would go on holidays to Europe as travel from UK was cheap and frequent. The biggest decision was which country/city to choose. Along with the expected touristy sights, sounds and epicurean delicacies, we loved to go a bit off piste. There was always fantastic architecture - from traditional buildings, to majestic brutal structures, often in the most unexpected places. Sometimes these buildings had been decommissioned, or were even being demolished. It saddened me to see these wonderful creations being left to decompose. Often, the natural environment around them had started to take them over, so this got me thinking about the 'nature vs. structure' struggle.

How did your time spent in the UK impact your art practice? Has anything shifted since relocating to New Zealand?

I was based in London, and only became a full-time artist in 2019. Before that I was a senior designer in advertising. As a designer, my day was usually spent in front of a Mac. Site visits or art directing photo shoots was a pleasant change, but the job was definitely computer driven. I started to get into doing art again at home (it had been a 20 year hiatus!). I loved the feeling of spending my evenings and weekends on projects with no brief, and getting my hands dirty. I did this for a number of years, and then bought a printing press. There was no looking back! By my last year as a full-time designer I was in a significant number of group exhibitions, and decided that becoming a full-time artist was the direction for me.

My art has certainly become more light-filled since returning. I feature a lot of brutalist structures, especially in my print work, but my compositions are becoming more abstract now. A lot more big skies and lighter tones I guess.
What does a typical day in your studio look like?

I'm lucky enough to have a studio at home, so I can get there in seconds when inspiration strikes. I used to have a studio in the house when I was in the UK, but now it's a separate building on the property, so I can keep work and personal life separate. My day used to start with clearing emails, looking at opportunities, and doing admin. I've recently been re-programming myself to get a couple of hours of creative studio time in before anything else. That's working well, and I'm finding if I get all of the concepts from the night before down on paper, they're more likely to become something. I will usually spend around 8 hours per day in the studio. This time isn't always allocated painting or creating - there is always other distractions like photographing work, planning or applying for exhibitions, updating websites and social media, ordering materials etc. I always find I'm much more focussed when I have a massive deadline looming, but at those times you'll probably find me in the studio for 12 hours a day, and all weekend too.

I'm definitely a planner. I have sketchbooks full of ideas, and these lead on to my concepts. I've always got more concepts on the go than projects realised, so when I finish a body of work there is always another range ready to realise. My most recent monoprint works started off as planned, but due to the unpredictable nature of the medium anything can happen along the way. That used to scare me, but now I embrace the random direction change.

What initially inspired you to work with Kina?

I had visited Kina a few years ago on a trip back to NZ. We stopped in and were really taken with the quality of art and design in the gallery. The staff were amazing as well, and we ended up buying some art to take back to the UK with us. When we returned in 2021, we stopped in again, and spoke with Luella. We had such a wonderful conversation about returnees, the art and design scene in NZ, the history of Kina and loads more. I just knew that if I was working with a gallery, I wanted it to be like this!
To view Hamish's amazing artworks, click here