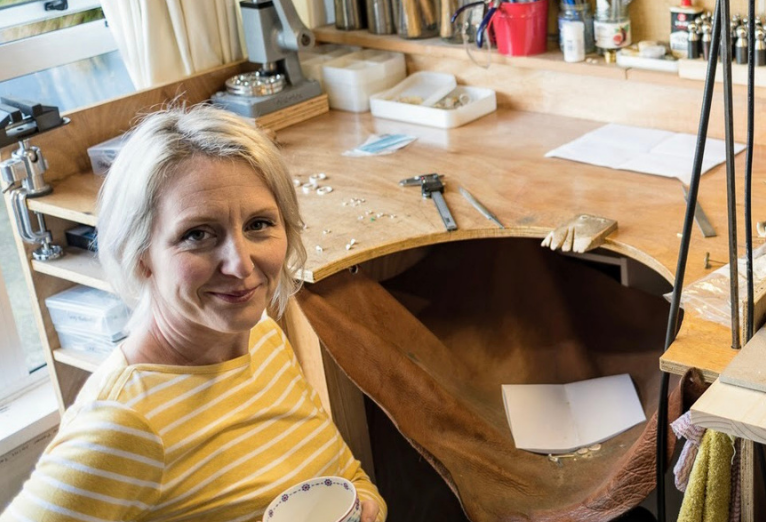 Wellington based jewellery maker, Natalie Salisbury creates beautifully intricate and textured works, utilising an eclectic and captivating range of precious stones and metals.
You have been working with jewellery for a long time, what initially drew you to becoming a jewellery designer?
Crazy to think that I have been making jewellery for nearly 20 years, yes, and to be brutally honest with you I really can't think what I would do if it wasn't this. I find my work such therapy... it satisfies my soul to get lost in the making of a piece. I know I'm incredibly lucky in this respect.
Throughout my life I have always been drawn to the tangible and the intricate. Working with my hands and finding ways to keep them busy has been a common theme. I remember taking things apart in my father's work shed as a child - seeing what happened as screws were unthreaded and lids were lifted to reveal worlds of wires and complex mechanics I didn't understand. In school, specifically art classes and CDT (craft, design, technology) I found ways to incorporate wire components and metal anything - thinking back I was evidently attracted to play through metals at an early age.
However, it wasn't until I began studying the subject at university that everything fell into place - at 24, after a failed attempt on another degree I gained the confidence to apply to the very well-known Birmingham School of Jewellery (; in the UK - I am from there). On this course, with some fantastic tuition and support, I thrived. 
Your collections have a strong affinity for the natural elements (your floral works with branches etc, and cave collection) What are some of your favourite aspects of living in NZ? 
Aotearoa is a rich and inspiring land. It is wide and open and surround by huge expanses of sea, and by that merit, those feelings are transferred to how I feel and to how I work. Maybe it's also age and maturity, but here in New Zealand I feel no limitations... I feel open; freer to explore ideas and aesthetics... processes that I wouldn't normally have explored ten years ago in the UK. In my mind, there is the acceptance of more freedoms and fewer rules, and that is certainly the experience I have had here when working alongside other jewellers from New Zealand. Added to that the evidently lush and diverse landscape - it has all been integral to the development of my work. 
Where do you find you gain your inspiration? 
There is no one place, I don't think. My collections have become incredibly diverse. I find inspiration in people and technique, in words... in nature and in man-made items. I am very persuaded by texture and with my most recent collections GLOW and Future Artefacts, I explore the relationship between surfaces rich in texture and how they transfers visually. Texture - I think this one word could perhaps direct all future work and I'm excited to see how far I can explore this theme.
You source a diverse and interesting range of gems and precious stones, do you work around the type of materials you source first or design the ring and then select the stones after that?
I love finding unusual and colourful stones; stones largely rich in yellows and greens and reds. However, I tend to design through what might be described as 'play'. I find the exploration of a material on a 3D basis far more inspiring and 'idea giving' than I do on paper - it's how I have always largely worked. I can draw on a very basic level, but I always struggle to explore ideas through sketches. Making is the way that works for me, and because metals are so forgiving, it's truly a process that works. My design ideas are sculpted and honed through this making process - it's very intuitive. Future Artefacts is a collection wholly created through a process of my exploring through making - taking the lead from my materials. 
What does a regular day in the studio look like for you?
Currently, as the mama of a 1 year old and a 4 year old, my time at the bench is not as excessive as it could be! Nor is any one day much like the same. 
Because I usually only have a max of 2.5 days of solid time in the workshop each week, I really have to be able to look at my week ahead and allocate jobs accordingly. I'm a huge list maker...I rely on lists to get anything done and have always been this way, so I regularly spend the first hour of the day looking at the list I have made the previous evening, checking over any emails, and prioritising jobs. After that I usually sit at my bench for a good portion of the day, checking emails and social medias regularly, replying to things and 'admin-ing' when I need to.
After what feels like about 5 minutes I realise approx. 7.5hrs have passed, I've barely eaten or drunk, nor have I thought about dinner for two children. It's a juggle, but I have a hugely supportive husband and though I don't have as much time as I would like to make or market my work, right now the balance leans towards family life. I look forward to that changing as they grow though as I have so much more that I want to explore in terms of ideas!
Do you listen to music in your studio, or prefer to work in silence?
I'm a podcast listener through and through... I love all things true crime, current affairs and comedy. I like listening to conversation - if make me feel like I have company in my workshop.
And when I need to focus on words, then silence is my cup of tea. I am regularly accompanied by a cat or two, so soothing purrs as I write my emails are really all I need.
Lastly, what is a special place you visit for inspiration either locally or within Aotearoa?
In all honesty, I rarely have the time to indulge in inspiration led expeditions... I'm not saying children completely thwart any ability to focus creativity and development, but... well, they don't assist in it. Of course I jest (I love my children beyond words and am so incredibly grateful for them, just to be clear), but they're the reason I'm cry-laughing at this question :)
However! If I had the time to focus solely on what I wanted to do then I would head straight back down to the Te Anau Glow worm caves (via Akaroa on a good day, because UGH - beautiful) before going off piste and finding as many other glow worms caves as I possibly could. They're just insanely magical and pre Aotearoa I'd never experienced anything like them. I'm not generally one for getting in a big old mass of rock underground, but I'll happily forget my phobias for the delights of their world. I just love them.
To view Natalie's stunning jewellery, view here