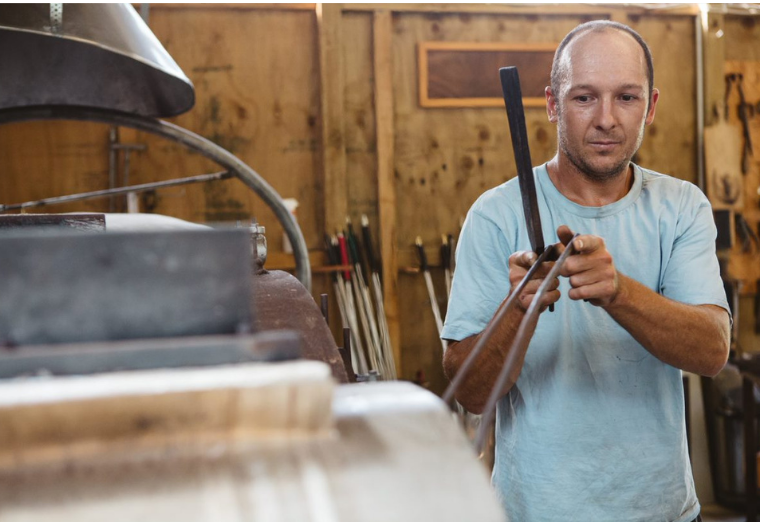 Justin Culina is a Whangarei based glass artist, his organic works mirror the oceanic environment in which their produced.
"The fluidity of glass lends itself well to ocean forms, creating a natural relationship between my passion for the sea and my passion for hot glass. I feel it's important to work with the glass in a way that utilises the shapes that it naturally wants to assume, appreciating and working with the tendencies of the medium. Capturing the beautiful liquid forms and stunning colours that glass offers is the challenge. I hope that this love and respect for glass and the natural world is reflected in my work".
Your glassworks possess an oceanic feel, do you resonate strongly with the ocean and your surroundings up in Northland where your studio is based?
Yes, we spend a lot of time seeking inspiration from our natural surroundings, this translates itself into spending lot's of time walking the beautiful Whangarei Heads beaches with the family and exploring our harbour by boat and harvesting kai Moana.
We love to directly incorporate sea elements in our work too such as using found kina shells to create imprints in our blown glass.
What initially inspired you to become a glass artist? Is there a favourite element of glass blowing that captures your imagination?
Glass blowing was to me an entrancing medium that was impossible to resist.
I love working in the hotshop when everything is going well and I feel like I have a symbiotic relationship with the glass.
What does a regular day look like for you?
Light the gloryhole and turn on the annealer, set up the shop for the day's work.
Take my daughter to kindergarten 5 minutes down the road.
Find some great music and take the day's first gather of glass.
Sometimes stop for lunch in the garden with my partner Caitlin and little son Julian, if the flow allows.
Stop making glass when the annealer is full or exhaustion sets in.
Have dinner with the family.
Go fishing in summer or play Squash in the winter.
You have a fabulous eye for colour and experiment with many different combinations. Do you have a particular pattern and colourway that you particularly love working with?
I love working with either contrasting or complementary combinations, I feel like I have a lot of learning yet to do in that department. It's always exciting when I find a combination that works as there are many aspects of colour design and application that are challenging when glass blowing. The chemicals in glass colour often react to create an unexpected result which can be very exciting or disappointing.
What is your most treasured area where you live and why?
I love the estuary where my family home is, it is a wonderful place to spend a day... fishing, swimming, sailing, kayaking, watching the tidal shift.
To view Justin Culina's work, click here