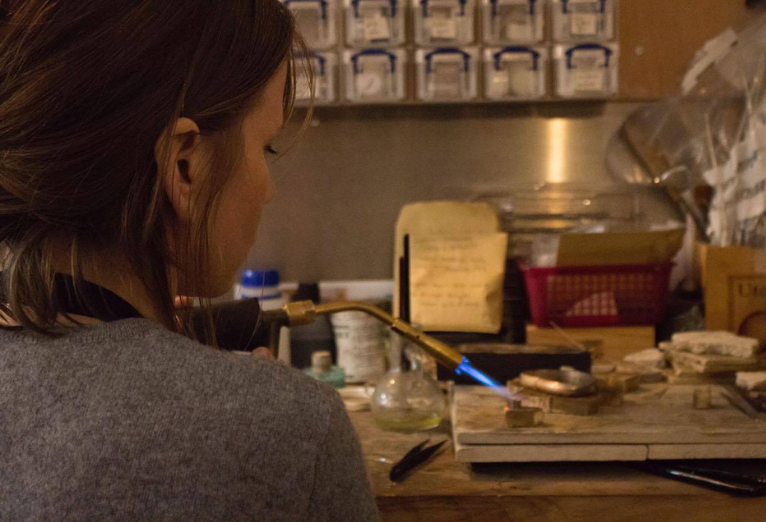 What initially drew you to contemporary jewellery design?
I spent a lot of time in my fathers art studio as a child, being curious as to what he was up to and playing around with things he showed me. His environment was a huge influence on me. I have always been drawn to making, and jewellery was what manifested most. The first time it was a conscious choice was for tertiary education, the course I did at M.I.T Auckland was straight jewellery techniques and it was there that I realised I'd continue in that field. 
You spent time cultivating your skills overseas and you were based in Cornwall for a time. How has this informed your jewellery practice?
Working as a bench-jeweller helped me gain a greater understanding of the trade, I really loved it. My bosses were very open and encouraging towards me. I was pushed to attempt techniques that I had previously felt too nervous to try, especially with some of the more expensive materials. They were happy for me to learn things on the job and gave me the freedom to make mistakes as well, that support helped a lot. The courses that I did in the UK gave me a greater skill-set and broader perspective of jewellery making. All in all, my experience there gave me a deeper appreciation of jewellery and a confidence in my abilities that wasn't always present before.
You have a great eye and talent for utilising unusual materials in your jewellery, like deer antler and wood for example. How do you decide upon what to use initially, and what materials to combine in your beautiful jewellery?
(Thank you!) Well, as it has often happened in the past someone has kindly given me a raw material to work with, this has then created a direction for me. I'm more inclined to use materials that feel good to touch. I'm not so good at having a blank page, I need a shape/colour/texture; something to begin with. These things help inform my work along with my obvious attraction to nature.
Do you have particular jewellery pieces you love to make?
I love making the first piece of a new idea, it's the most challenging and rewarding. Also, when I was working as a jeweller in the UK I began to appreciate how much memory and sentiment is held within jewellery. Customers came in with jewellery, perhaps an heirloom or from a deceased loved one and wanted it changed into something they would wear, but still filled with the feeling and connection to their significant other. There's a greater sense of responsibility in these kinds of commissions, not ones to take lightly, so when they receive their new piece it can be an emotional time. I like that about creating jewellery, making something that brings people connection and meaning in life.
What does a regular day in your studio look like?
I tend to focus on one thing at a time and immerse myself in that until I've done what I need. There are aspects of the materials I work with that can be repetitive, noisy, smelly and dusty, so there is no room for working on several different things at the same time. When I don't have a specific task to complete I often just sit at my bench wondering where and what to begin. when that happens I rummage through containers of materials and unfinished pieces to see what comes up, like looking at the shape / colour of a stone or a piece of antler and see if I can imagine something in it. Joining different materials / objects / shapes / colours up, matching and mis-matching. I see it like a puzzle (another activity I have enjoyed since childhood).
Do you have favourite music you create to, or do you prefer peace and quiet in your studio?
Music is very important to me in all aspects of my life, it's something that helps me through the day, gives me motivation and joy. It encourages the creation of whatever it is I am working on. Yet it can also be very distracting if the music is not right for the moment, I can end up spending lots of time on Spotify trying to find the right song, haha ;) Though I do often have quiet times especially when I really need to focus on something important and delicate or when I've been making prolonged noise on a machine; silence is a welcome relief then.
To view Rachel's jewellery, click here