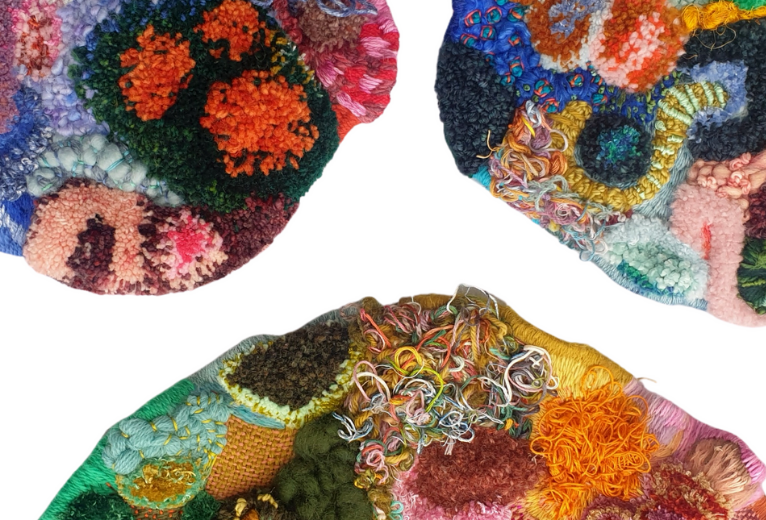 The new collection from Fleur Woods, Down the Bay was always going to resonate with me as I love the ocean. Fleur's rockpools are mesmerising in that they really take you to the water. With either a view point of looking from above at the thriving ecosystem of a rockpool or those moments of diving down and becoming part of the ocean world deep below.
Working with thread as a means of stitched painting, Fleur's artworks are a homage to days spent beach combing and rock pooling along remote coastlines. A rainbow of texture and tones, these pieces are a joyful exploration into the restorative experience of connecting with nature. Nostalgia is always present in the artists work through her intricately hand stitched details, colourways and materials that transport you to simple days at the Bach whilst also sharing a contemporary celebration of a treasured craft.
These past few weeks there have been many conversations about place. People have shared memories of connections to regions around the world where they have been diving or snorkelling in warm oceans. They have shared stories of beachcombing at the family bach here on the coasts of New Zealand. This collection has pulled many a story and I have enjoyed listening.
The connection we have with the environment has a positive influence on our well-being. We make memories through connections and we complete the cycle by sharing those stories with others.  It is this that makes our gallery so wonderful. The art on our walls speak to us, remind us, and connect us to place, memories and nature in all kinds of ways.
From all of us at Kina, thank you for sharing your stories, connecting with us and our space on a daily basis. You make our days all the better for this 💕
One last little note: For the ultimate in story telling and connection, pop on over to Netflix and watch My Octopus Teacher. It is an incredible story about connecting to place, nature, and the environment that surrounds us. The world has a lot to offer, make sure you open yourself to your surrounds daily.