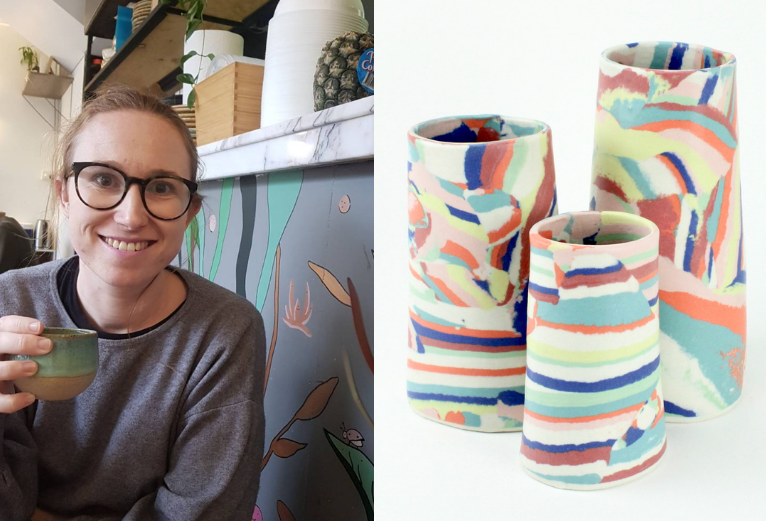 Ceramic artist Alex Wilkinson is a Waikato based maker, producing unique works alongside her team under Mystery Creek Ceramics. In addition to producing her wonderful works, Alex is passionate about advocating for the arts and teaches at the Waikato Society of Potters.
"Don't think about making art, just get it done. Let everyone else decide if it's good or bad, whether they love it or hate it. While they are deciding, make even more art." This quote is from Andy Warhol and keeps me going when there is criticism or I have run out of faith in myself. I like to trust the making process.
Your signature ceramic method is the art of nerikomi, what initially drew you to this distinctive technique? When did you first start experimenting with this?
Nerikomi is a Japanese technique that means to fold coloured clay. I fell into this technique as I began working in coloured clay. Originally I started out as a thrower but with a slight dislike for the lack of control in glazing, I prefer to let the clay itself do the decorating for me. Coloured clay pushed me off the wheel as I could only control the pattern so much with the spinning of the wheel and into hand building. I love the nerikomi process, it's definitely a long and complicated way to make pottery but I just love it. The pattern is something I love as well. Nerikomi is a decorative process that involves the stacking and cross-sectional slicing of coloured clay. Traditionally this was done in small sections and used as an applied decoration. I love this technique so much that I incorporate pattern making into the entire body of the vessel.
The process is extensive. The paper porcelain clay is turned into a liquid, stained, and dried out again so it is plastic and workable. The clay is then rolled as hundreds of individual layers and stacked up to build a block. The patterned block is sliced, rolled, and cut out into a mug or the template of the final form. The piece is formed, and any handles and bases applied, given a sponge bath (to ensure the pattern comes through cleanly) and fired twice. The firing is up to 1300 degrees Celsius and sometimes you may find these pieces are translucent due to the qualities of the porcelain. I love this process; I love the way the pattern is both planned and can sometimes surprise you. Each piece, even when made from the same block, can be different and the happy accidents sometimes create the most beautiful pieces.
I have two types of design in this range: the stripes and the mixed-up. The stripes are made directly from the slices off the patterned block. While the mixed-up are more random and made from the offcuts of the striped vessels. Each piece from this range is dishwasher, oven and microwave safe.
You have a great eye for colour, what draws you to the colours you use?
Thank you, my colour use is pretty intuitive. I love bright colours and seek to make my pottery as colourful as possible. I have a strong aversion to complementary colours so making the rainbow range sometimes messes with my idea of which colours go with which, but I tend to just seek brightness and simplicity.
What does a day in the life of Alex and Mystery Creek Ceramics look like?
My life is pretty full and has three main components; Mystery Creek Ceramics my tableware business, my art practice which I am currently working through by studying Honours at Wintec, as well as my teaching which involves coordinating and teaching the diploma at the Waikato Society of Potters (WSP).
I have three wonderful staff who all work in Mystery Creek Ceramics now, so my days consist of making my artwork (which at this stage is all about sculptures that break themselves), managing my staff and interns and their workloads and working on the two new ranges I am developing for Mystery Creek Ceramics. Fridays are diploma day and I am in WSP usually firing the gas kiln, teaching or volunteering at the society, doing things like funding applications. 
I love to advocate for the arts and firmly believe in supporting the next generation of artists in their artwork and in building a sustainable income for themselves.
You work alongside potters and assist interns, as well as co-ordinating and teaching the Diploma in Arts, Design and Ceramics Program at The Waikato Society of Potters through Otago Polytechnic. What do you love the most about sharing your knowledge and passion?
Teaching is a true passion of mine. I love passing on knowledge but more than that, I love to help my students express their ideas through their artwork. Everyone has a meaningful story to tell and unlocking this through art is what helped me rediscover myself and I love helping others do this.
My students probably think I am a bit tough as I do think it is very important to get the technical skills right first before we move onto the fun ideas stuff. Teaching also allows me to connect with other artists, I don't like working in isolation and find my Fridays with my students are my absolute favourite part of the week.
 
To view all of Alex Wilkinson's works, click here